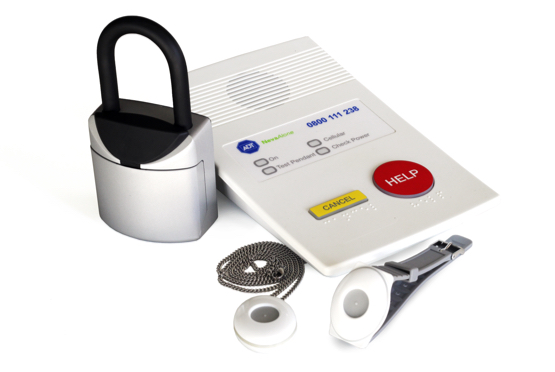 What is a NevaAlone Medical Alarm
If you have a medical condition, or live by yourself, a NevaAlone medical alarm is your ticket to a safer, more independent lifestyle.
Providing you with 24/7 peace of mind, the NevaAlone device can be worn as a neck pendant or wristband.
The pendant is water-resistant therefore, it can be worn in the shower or bath.
The pendant has a long-range capability of approximately 100-200 metres from the medical unit.
ADT medical alarms have the approval of the Ministry of Social Development (MSD).
Emergency assistance from our

highly trained NevaAlone Support Team

means we are here for you 24 hours a day, 365 days a year.
You choose the help you require: friend, family member, ambulance, fire, police, security officer.
If in the event we dispatch an ambulance, we will pay for the call-out.
The water-resistant Personal Help Button

can be worn as a neck pendant or wristband in the shower.
The two-way voice intercom doubles as a speakerphone allowing you to communicate with our highly trained NevaAlone Support Team and emergency services. If you are unable to communicate, we will dispatch emergency services straight away.
The alarm can be used if you are concerned for your personal safety and the nearest Security Guard can be sent to your home. ADT is the only medical alarm supplier to offer this service at no extra cost
We will install a secure lockbox outside your home which will contain a key to your door, allowing emergency services access to your home in the event the doors are locked.
Our pendants have a range of approx. 100-200 metres allowing you access to emergency services should you require assistance whilst you are outside your home in your garden
There is no requirement for a landline telephone as our alarms communicate via the cellular network. We do have landline based alarm units should you not have adequate cellular coverage in your home.
How to use your NevaAlone medical alarm
If you experience a fall or medical emergency in the home or garden, you can call for help using your medical alarm by either:
Pressing the HELP (red) button on the medical unit; OR
Pressing the HELP (grey) button on your Wristwatch / Pendant for 2 seconds.
The HELP (red) button will now flash slowly indicating the unit has called for help.
After the help call has been made
When ADT Security's NevaAlone Support Team have received the help call, your medical unit will annunciate to let you know that the call has been received.
ADT Security's NevaAlone Support Team will call you and speak to you through the 2-way speaker on the alarm to see if you require assistance
If you require assistance, the operator will alert the ambulance or other emergency services and also your emergency contacts
If in the event that you are unable to talk to us, our team will dispatch an ambulance immediately
Some of the content contained on this page is from the website of ADT Security. The use has been approved by ADT Security, but ADT Security remains the owner of the content used at all times